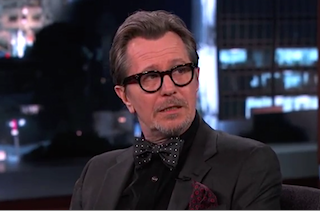 Gary Oldman was scheduled to appear on Jimmy Kimmel Live! before he became a topic of controversy this week for denouncing Hollywood hypocrisy and political correctness in an interview with Playboy. But his appearance Wednesday took on new meaning when he ended up issuing a sincere apology to anyone and everyone he offended with his words.
"I said some things that were poorly considered," Oldman told Jimmy Kimmel. "And once I had seen it in print, I could see that it was offensive, insensitive, pernicious and ill-informed."
The Anti-Defamation League issued a statement calling his comments about Jewish people "prejudiced" and the actor responded with an apology to that community. But the apology he made to Kimmel's audience was more broad.
"I don't condone or excuse the words I used in any context," he said, his voice starting to break. "I just basically shouldn't have used them in any context. But I did, and I have deeply injured and wounded a great many people." He thanked Kimmel for giving him an "opportunity" to say he's "profoundly sorry and deeply apologetic."
While he said he should be a role model for his fans, he instead has been an "a-hole" and "should know better."
"I'm so happy that someone has to apologize on this show and it's not me for once," Kimmel joked, lightening the mood. He said it's important to accept someone's apology when they apologize, but added, "you are a great actor, so we can never trust anything you say."
"Oh no, trust me," Oldman responded.
"In general, they say defending Mel Gibson is not a good thing to do in any way," Kimmel said, referring to just one of Oldman's controversial comments. But, he added, he understood what Oldman was trying to say about "hypocrites" who "jump up on their soapbox."
Watch video below, via ABC:
[Photo via screengrab]
— —
>> Follow Matt Wilstein (@TheMattWilstein) on Twitter
Have a tip we should know? tips@mediaite.com