Gay Democratic Senator On Hagel's Anti-Gay Comment: I Want To Know If His Apology Is 'Sincere And Sufficient'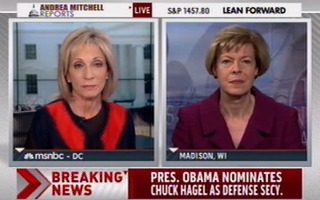 Sen. Tammy Baldwin (D-WI), the U.S. Senate's only openly gay member, joined MSNBC's Andrea Mitchell on Monday where she was asked for her thoughts on former Sen. Chuck Hagel's (R-NE) anti-gay comments from the 1990s and his subsequent apology for those remarks. Baldwin did not accept Hagel's apology off hand, saying that she would like to make sure that Hagel's apology is "sufficient."

RELATED: This Is The Guy Chuck Hagel Didn't Want To Be An Ambassador Because He Was 'Aggressively Gay'
Mitchell described Hagel's offending statement, in which he described an ambassadorial candidate as being "aggressively gay," as a "virulently anti-gay comment." Mitchell noted that Hagel has since apologized, but asked Baldwin if Hagel's apology was enough for her to support his bid to become President Barack Obama's next Secretary of Defense.
Baldwin said that, as a new senator, she does not know Hagel well. She said she would keep an open mind, but has some questions regarding those comments and his views towards gays and lesbians.
"I do want to speak with him, particularly about his comments 14 years ago, to see if his apology is sincere and sufficient," Baldwin said. "I want to hear how he's evolved on this issue in the last 14 years, because the significance to the post for which he's been nominated is the respect for, now, openly gay members of the military."
Baldwin said that "the security of this nation is at stake" when it comes to Hagel's views about gay and lesbian members of the United States military.
Watch the clip below via MSNBC:
> >Follow Noah Rothman (@Noah_C_Rothman) on Twitter
Have a tip we should know? tips@mediaite.com