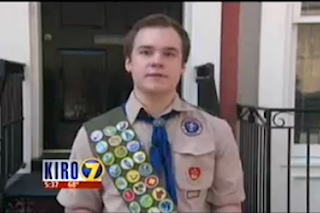 Earlier this year, 17-year-old Maryland resident Pascal Tessier became the first openly gay Boy Scout to to reach the national organization's top rank of Eagle Scout since they lifted their ban on gay members in January. But since the Boy Scouts still prohibits openly gay adult leaders, he will have to leave the organization when he turns 18.
Since the Boy Scouts recently kicked out Geoff McGrath, an openly gay scoutmaster in Seattle, Tessier has been waging a campaign to make the organization include gay adults as well. This led him to Amazon, which currently lists the Boy Scouts of America as one of many charity options in its AmazonSmile program.
This week, Tessier traveled to Washington state, where he plans to deliver a petition containing more than 120,000 signatures to Amazon's headquarters. "One year ago this week, the Boy Scouts of America made history when it lifted a ban on gay youth," Tessier said in a press conference Monday. "Openly gay scout leaders, however, face dediscrimination and can be kicked out based solely on their sexual orientation."
The Washington Post, which is owned by Amazon's Jeff Bezos, spoke to Tessier about his campaign. "It kind of re-ignited the feeling of anxiety and fear," he said of McGrath's firing. "It proved they are still going to punish adults, so when I do turn 18, now I know for a fact I will get kicked out."
"We're just asking Amazon to stand by its own policy, and its commitment to the LGBT community," Tessier say, noting that AmazonSmile prohibits organizations that "engage in, support, encourage, or promote: intolerance, discrimination or discriminatory practices based on race, sex, religion, nationality, disability, sexual orientation, or age."
For its part, an Amazon spokesman told the Washington Post that it relies on lists published by the Southern Poverty Law Center and the U.S. Office of Foreign Assets Control to "determine if certain organizations are ineligible to participate" in AmazonSmile.
Watch video below, via KIRO-TV:
[Photo via screengrab]
— —
>> Follow Matt Wilstein (@TheMattWilstein) on Twitter
Have a tip we should know? tips@mediaite.com