Gayle Trotter Defends Women's Gun Rights On Hannity, Doubts Gun Control Will Pass Congress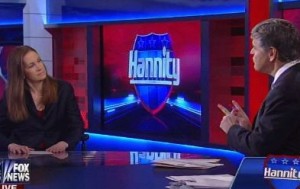 Sean Hannity tonight got around to last week's testimony by gun rights advocate Gayle Trotter making the feminist argument for gun rights, saying that mothers like her feel they need guns to protect themselves and their children. Hannity had Trotter on his show, and the two of them discussed how the gun rights debates affect women in particular. Trotter maintained that women should be able to defend themselves "with all the means necessary" when faced with an intruder.
Trotter told Hannity that her view is not one that gets talked about in the media. Hannity said that the two of them are some of the only people in the country bothering to cite actual instances of people successfully using guns to defend themselves. Trotter added that everyone who criticized her for her testimony did not bother to check her written appendix, which had such examples available. Hannity, in particular, honed in on Trotter's argument that women are simply more vulnerable than men in these situations.
Trotter said that in many of the examples she cites, women tried calling 911 and they did not respond fast enough, and so they need a gun to defend themselves in time. Hannity marveled at how gun control advocates are asking how many bullets people need, to which he responded, "as many as necessary."
Trotter responded to the questioning she got during her hearing about whether or not a shotgun would be adequate for women. She said that women need to be able to defend themselves "with all the means necessary," and also argued that it's not only women who are vulnerable, but the elderly. Trotter doubted that the gun control legislation would ultimately pass in Congress anyway.
Watch the video below, courtesy of Fox News:
—–
Follow Josh Feldman on Twitter: @feldmaniac
Have a tip we should know? tips@mediaite.com
Josh Feldman - Senior Editor