Geithner: Obama 'Absolutely' Willing To Go Over Cliff If GOP Does Not Cave On Higher Tax Rates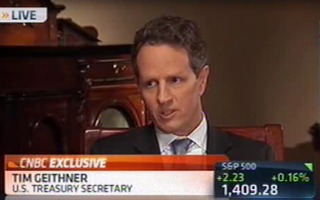 Treasury Secretary Timothy Geithner appeared on CNBC's Closing Bell on Wednesday where he put a finer point on the Obama administration's negotiating position against Republicans as both sides seek to resolve the fiscal cliff before 2013. Asked if the White House would prefer to go over the cliff if Congress does not agree to a rate hike on the wealthiest 2 percent, Geithner confirmed that they would.

RELATED: Geithner: White House Willing To Go Over The Cliff If Republicans Don't Agree To Raise Tax Rates
Asked if the administration was prepared to go over the fiscal cliff if Congressional Republicans do not agree to a tax rate hike, as opposed to raising new revenues through ending deductions and closing loopholes alone, Geithner replied "absolutely."
"There's no prospect for an agreement that doesn't involve those rates going up on the top 2 percent of Americans," Geithner replied.
He was then asked, if the White House can get most of what they need to resolve the fiscal cliff crisis without raising rates, they would risk catastrophic damage to the economy by going over the cliff by holding out for a rate increase.
Geithner replied the White House is seeking a "comprehensive" solution that would "create some room to for investing in things to make the economy stronger." He also said that revenue through higher rates is the only solution to the fiscal cliff "that makes any sense" or has "any political viability."
Watch the clip below via CNBC:
> >Follow Noah Rothman (@Noah_C_Rothman) on Twitter
Have a tip we should know? [email protected]