Geithner: White House Willing To Go Over The Cliff If Republicans Don't Agree To Raise Tax Rates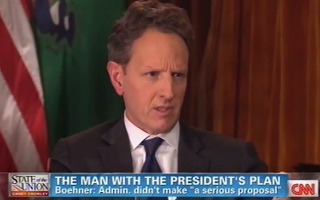 Treasury Secretary Timothy Geithner appeared on CNN's State of the Union with Candy Crowley on Sunday morning where he explained some of the details of President Barack Obama's opening bid in the negotiations with Congressional Republicans to find a resolution to the upcoming fiscal cliff. Geithner said that the White House would not negotiate on their demand that tax rates on the wealthy go up. He said that, if Republicans refused to back off their insistence that tax rates not be increased, a deal was unlikely and the nation will go over the cliff.

RELATED: Krauthammer Urges GOP To Walk From Negotiations: Gen. Lee Was Offered Better Terms At Appomattox
Geithner made it clear that opposition among Republicans in Congress to an increase in tax rates was a non-starter. He said that the Obama administration would not accept a deal in which added revenues were derived entirely from the elimination of deductions and the streamlining of the tax code.
"There's not going to be an agreement without rates going up," Geithner said.
"So, you'll go off the fiscal cliff if Republicans say 'sorry, no way are we raising rates,'" Crowley asked.
"If Republicans are not willing to let rates go back up – and we think they should go back up to the Clinton levels, a time when the economy is doing exceptionally well – then there will not be an agreement," Geithner replied.
"If they are going to force higher rates on virtually all Americans because they're unwilling to let tax rates go up on 2 percent of Americans, then that's a choice they're going to have to make," Geithner added. "But, they will own the responsibility for the damage to the American economy."
Watch the clip below via CNN:
> >Follow Noah Rothman (@Noah_C_Rothman) on Twitter
Have a tip we should know? [email protected]