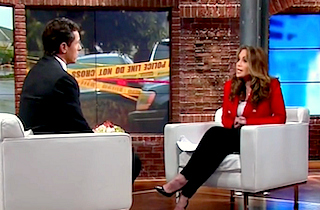 One day after it was revealed that a terror suspect fatally shot by law enforcement in Boston Tuesday had potentially been planning on beheading Pamela Geller, the anti-Islam activist appeared on CNN's New Day for another exciting round of Cuomo v Geller.
"I am under 24-hour guard now," Geller said. "Anybody that speaks critically of Islam will find themselves in this position, and it's not new."
Geller took exception when Cuomo asked if she had gone "too far" in provoking Islamic extremists by holding Muhammad cartoon contests; depicting the prophet is forbidden in Islam.
RELATED: Pamela Geller Reacts to Reported Targeting by Terror Suspect: 'This Is a War'
"Drawing an an innocuous cartoon warrants chopping my head off?" she demanded, warning the media to be particularly wary after last summer's beheading of two western journalists. "That's too far?… There going to come for you too, Chris. They're coming for everybody."
Cuomo asked why Geller didn't show she was better than Islamic extremists rather than "poking them in the eye."
"That's not what you're doing. You are submitting. You are kowtowing," Geller said. "I find a lot of things offensive. I find you telling me that my speech is offensive offensive. I'm not going to kill you. This is what is required to live in a pluralistic society. And I will not abridge my First Amendment rights so as not to offend savages."
There followed yet another iteration of "is violence inherent to Islam?" Watch the clip below, via CNN:
[Image via screengrab]
——
>> Follow Evan McMurry (@evanmcmurry) on Twitter
Have a tip we should know? tips@mediaite.com