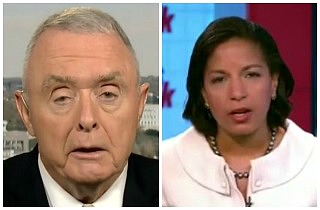 "Sergeant [Bowe] Bergdahl wasn't simply a hostage; he was an American prisoner of war captured on the battlefield," National Security Advisor Susan Rice insisted on Sunday morning in an appearance on ABC's This Week. "He served the United States with honor and distinction."
Adding cryptically that there will be time to "learn what has transpired in the past years," Rice went on to inform the public how they should feel about Bergdahl's release. "[T]his is such a joyous day," she swore.
Well, 48 hours after that appearance, it seems the public is not taking Rice's advice. As more details of Bergdahl's service emerge, none of which looks especially exemplary, some have begun to ask if Rice had again disseminated misleading information on the Sunday morning talk shows.
On Tuesday, no less a figure than Ret. U.S. Army Gen. Barry McCaffrey definitively asserted that she had.
"I think what bothers people is having our commander-in-chief on television putting a glow of euphoria around this guy," McCaffrey began, summarizing what he thought was fueling the backlash against this prisoner swap. "And then followed on with Dr. Susan Rice, who's such a brilliant person, calling him having him served with honor and distinction when they knew full well this wasn't the case."
That is an especially polite way of saying the administration used Rice to wilfully mislead the public.
The distinction between this incident and the mess resulting from Rice's embarrassing post-Benghazi Sunday show appearances on September 16, 2012 is that the White House cannot now claim that Rice was merely relating the best information the administration had at the time. Why? The average American with an internet connection had better information at the time.
Over at the Washington Free Beacon, Sonny Bunch has assembled a list of links of reports detailing the troubling account of Bergdahl's alleged desertion and his eventual capture by Taliban fighters. The late Michael Hastings, writing in Rolling Stone nearly two years ago, revealed the granular details of Bergdahl's abandonment of his post in 2009 and subsequent capture by Taliban fighters.
Since Bergdahl's release from captivity, a wealth of reporting has uncovered facts of his alleged desertion which are fueling criticism of the White House's decision to trade him for five of the most dangerous Taliban prisoners in American control. It is reasonable to presume that the Pentagon and the White House were aware of Bergdahl's questionable service record. It is next to impossible, in fact, to envision a scenario in which the administration could have been unaware of the charges against Bergdahl.
Why then would Rice be sent out on the Sunday shows, again, to assert an untruth: that Bergdahl's service was both honorable and that his release was a "joyous" occasion when, as McCaffrey correctly asserted, the administration knew these were dubious contentions? It defies logic.
One thing is certain, though. Rice must be getting tired of being used by her employers as a prop to mislead the public on national television when the political situation demands it.
Watch the clip below via MSNBC:
[Image via screengrab]
— —
>> Follow Noah Rothman (@NoahCRothman) on Twitter
Have a tip we should know? tips@mediaite.com