Gen. Dempsey: Open to Limited Boots on the Ground 'If Circumstances Evolve'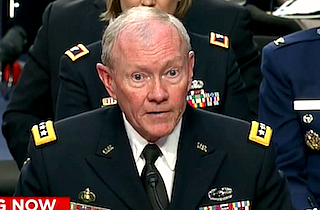 During congressional testimony about the Obama administration's plan to confront ISIS in Iraq and train rebels to fight them in Syria, Joint Chiefs of Staff Chairman General Martin Dempsey told Senator Jack Reed (D-RI) that he would be open to boots on the ground in limited situations, though he reiterated that there was no plan to deploy them.
"In the case of our contributions in Iraq right now the airmen are very much in a combat role," Dempsey said. "The folks on the ground are very much in a combat advisory role. They are not participating in direct combat. There is no intention for them do so."
"I've mentioned, though, that if I found that circumstance evolving that I would, of course, change my recommendation," Dempsey said. "An example: if the Iraqi security forces and the Peshmurga were at some point ready to retake Mosul, a mission that I would find to be extraordinarily complex, it could very well be part of that particular mission to provide close combat advising or accompanying for that mission. But for the day to day activities I anticipate will evolve over time, I don't see it to be necessary right now."
President Barack Obama, as well as most other lawmakers who have spoken on the subject, have forsworn so-called "boots on the ground," and the option is unpopular with an American public weary from two long military campaigns.
Watch the clip below, via CNN:
[Image via screengrab]
——
>> Follow Evan McMurry (@evanmcmurry) on Twitter
Have a tip we should know? tips@mediaite.com