General Chaos: Gen. John Allen Dragged Into Petraeus Scandal For Alleged 'Inappropriate' Emails To Jill Kelley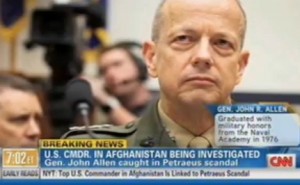 The scandal that rocked the Central Intelligence Agency Friday is turning out to have more wrinkles than a Shar Pei who sleeps in his clothes. Shortly after CIA Director Gen. David Petraeus resigned over an affair with biographer Paula Broadwell, it was revealed that an FBI agent allegedly sent shirtless photos of himself to Jill Kelley, the woman who started the investigation of Petraeus because she had received "threatening" emails from Broadwell. On Tuesday morning's Starting Point, host Soledad O'Brien reported that Marine Gen. John Allen, the top U.S. commander in Afghanistan, is under investigation for alleged "inappropriate" emails to Jill Kelley.
In case you've missed the first few episodes of this military-themed season of Dawson's Creek, Gen. David Petraeus was minding his own business, having an affair with biographer Paula Broadwell, when Broadwell allegedly began sending "threatening" emails to unpaid military liaison Jill Kelley (who is married), basically telling her to back up off of not her man. Kelley happened to have a friend at the FBI, who began investigating Broadwell's emails, which led to the discovery of Gen. Petraeus' infidelity. Along the way, some genius at the FBI figured that the woman who had complained to them about creepy emails really just needed some shirtless FBI agent photos in her life, and was taken off the case.
On Tuesday morning's Starting Point, Soledad O'Brien reported that the top U.S. commander in Afghanistan, and President Obama's nominee for Supreme Allied Commander Europe (until now) has come under investigation for up to 30,000 pages of emails to Jill Kelley that have been described as "inappropriate," which could simply be a description of the sheer volume of emails, really. Who does this guy think he is, the Obama campaign?
CNN Pentagon reporter Chris Lawrence told O'Brien that Gen. Allen "has denied any wrongdoing in this matter," and explained that "on Sunday, the FBI notified the Pentagon that they had 20,000 to 30,000 pages of e-mails, which contained inappropriate contact between General John Allen, and Jill Kelley.
Lawrence went on to explain that "General John Allen was stationed in Tampa when he was at U.S. Central Command. So was General David Petraeus. Jill Kelley worked as sort of a social liaison with a lot of the commanders there. In fact, she's been — won awards for her work with some of the military families, and the military down there. Now, Paula Broadwell started e-mailing Jill Kelley, and from what we know, some of those e-mails basically took the tone of, you know, stay away from David Petraeus, sort of, I know sort of your relationship with some of these other generals, it's inappropriate. At the time it didn't make sense. Because what we've been told is, David Petraeus and Jill Kelley are family friends. That David Petraeus and his wife Holly have spent time with Jill Kelley and her husband. That there was no romantic involvement between Petraeus and Kelley. But apparently, Broadwell may have thought so. And so, started this whole e-mail chain because of what she may have believed, which now has spiraled to include not only Petraeus, but General John Allen."
CNN White House Correspondent Brianna Keilar then reported that, in a statement from NSC spokesman Tommy Vietor, that the President has requested that Gen. Allen's nomination for SACEUR be put on hold pending the Inspector General's investigation, and urged the Senate to quickly confirm Gen. Joseph F. Dunford Jr. as ISAF commander.
With the election over, and literally nothing else to talk about besides the always-scintillating fiscal cliff, we can expect lots of new twists and turns in this soap opera in the days and weeks ahead, but as Rachel Maddow pointed out Monday night, if none of these investigations show that this is anything more than a personal matter (which they haven't yet), why should anyone care? Aside from giving Republicans something to distract themselves with, what is the point of this? And when did the FBI become the enforcement arm of Gossip Girl?
Here's the clip, from CNN's Starting Point:
Follow Tommy Christopher (@TommyXtopher) on Twitter.
Have a tip we should know? tips@mediaite.com