George Anthony's Alleged Mistress Calls Him A 'Liar' In Bizarre HLN Interview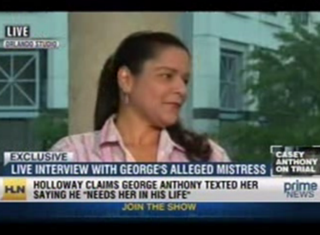 As the defense begins to wrap up their arguments in the roller-coaster Casey Anthony trial, one witness has come to the fore after taking the stand to demand truth from Casey's father George. Krystal Holloway, who testified that she gave George Anthony money and had an affair with him, spoke to Prime News' Vinnie Politan about her experiences with the Anthonys and how she is coping with the trial.
Holloway, who appeared visibly troubled by the newfound notoriety, first explained to Politan how her image was being smeared to discredit her as a witness, noting that a mug shot of her released to the press was the product of a traffic violation and that denials of the affair were untrue. What's more, she gave Anthony money because "he told he that he couldn't get a job… even though we were sleeping together, I gave him the money." His denials of both the affair and the payments, she argued, made him a "liar."
Holloway also explained some confusion relating to her identical twin sister, who happens to be in the same jail as Casey Anthony. "She did some time," she explained, but her tenure in jail had nothing to do with Anthony's.
The interview, which Holloway repeatedly denied she gave for money, got all the more bizarre and moving as the questions got more personal. Asked how she felt testifying about her affair in front of Cindy Anthony, Holloway broke down and repeated that she regretted the affair and was "already paying for it– I tried to commit suicide." She explained that the pain that drove her to suicide was similar to that she was reliving thanks to the trial, because "nobody has given me a chance to explain," and that while she knows "I did wrong, I want him to take responsibility, too."
The full, emotional interview via HLN below:

Have a tip we should know? tips@mediaite.com