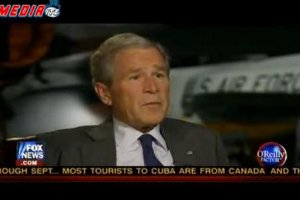 Bill O'Reilly had quite the guest on the Factor tonight – former President George W. Bush. Bush was there to promote his new memoir, Decision Points, but O'Reilly wanted to talk about more – namely, some of his opinions on the current political climate, how many of his decisions still resonate today, and in a few cases, why the current administration is doing what it's doing. Bush wasn't having any of it.
When O'Reilly pressed Bush on why he thinks the current administration is continuing to bail companies out, even though Bush noted "most of the TARP money that we spent under my watch has been repaid," the former president bristled, saying, "You need to ask him, not me – I'm the retired guy!" O'Reilly, of course, didn't give up that easily, but Bush pushed back again, saying, "You're trying to drag me into the current affairs." O'Reilly made the (valid) point that many of the decisions Bush made as president still impact the country today, but he didn't budge.
O'Reilly finally gave up with that line of questioning and began discussing the amount of hate Bush received, which Bush said he doesn't care about. And while it would have been interesting to see him be more open about it, as well as a more in-depth discussion of his policies, Bush's desire to avoid a war of words and leave the partisan shouting to others was pretty nice to see. Video of the segment below – no one can accuse O'Reilly of giving Bush exactly what he wanted to hear.
Have a tip we should know? tips@mediaite.com