George Clooney: 'Democrats Are Bad At' Messaging, I Could Sell Obama Presidency As 'Very Successful'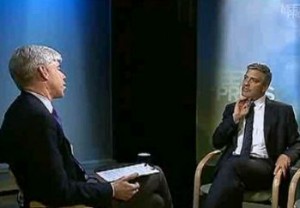 During George Clooney's interview on Meet the Press today, the actor took some time out to talk U.S. politics. Clooney said that he is satisfied with what President Obama has done so far, and his numerous accomplishments would easily help him get reelected, but Clooney said it's not happening because the Democrats are not very good at messaging.
RELATED: George Clooney On President Obama: 'I Think He's Done A Wonderful Job'
David Gregory asked Clooney if he thinks Obama is likely to be reelected in the fall. Clooney said that even before the Republican primary race got underway, Obama was looking good for reelection, because Clooney thinks he's done a good job. However, he pinpoints the inability of Democrats to message correctly as a reason for why he's not doing better in the polls.
"The Democrats are just very poor, in general, at explaining what it is, when they accomplished something, I think they're pretty bad at it, and Republicans are very good at it. If I was a Republican, and Obama was a Republican, I would be selling all of the, you know, he saved the auto industry and he got Osama bin Laden. He passed a health care bill that no one could pass, if that was a Republican issue. I would be able to sell his presidency as a very successful one. But Democrats are bad at that, we like to pick each other apart."
Gregory brought up Clooney's friend and colleague Matt Damon, who has not been shy about expressing his disappointment and frustration with the Obama presidency. Clooney said he's not disappointed with Obama at all, and said that he's "very proud of" Obama for delivering on the issues most important to him.
RELATED: Matt Damon Would Have Preferred 'A One-Term President With Balls'
Watch the video below, courtesy of NBC:
Have a tip we should know? tips@mediaite.com
Josh Feldman - Senior Editor