George Stephanopoulos Asks If Obama Campaign Should Sever Ties To Bill Maher Following Rosen Remark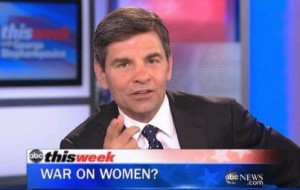 In the middle of defending Hillary Rosen on his show Friday, comedian Bill Maher argued that what Rosen meant to say was that Ann Romney "has never gotten her ass out of the house to work." Well, tangential link at best be damned, because on ABC's This Week earlier, George Stephanopoulos asked the panel if President Obama's campaign should now sever its ties to Maher over the comment, given that he donated a million dollars to a pro-Obama Super PAC.
RELATED: Bill Maher On 'Rosen-Gate': Just The Latest In 'Stupid, Non-Consequential, Meaningless Controversies'
Stephanopoulos started by saying that Obama has a "continuing problem with Bill Maher." Maher is, apparently the biggest single contributor to the Priorities USA Action Super PAC, which means that obviously Obama is now accountable for everything that Maher says. Stephanopoulos asked if Obama would now have to "cut ties" with Maher to avoid being linked to him in the future. Melody Barnes, a former advisor for the president, said that in public life, civility is one of the most important parts of discourse, and reminded everyone that David Axelrod canceled a recent Real Time appearance to show that the Obama administration does not agree or ally itself with Maher.
Cokie Roberts noted that the Obama administration has already been cutting every tie possible to Hillary Rosen in case her comments can be transmitted through bug bites or something, but as for Maher's comments, Roberts suggested they feed into the stereotype that Democrats are "out-of-touch with regular people." Katrina vanden Heuvel tried to be reasonable and suggest that this whole controversy was being blown out of proportion and that we have more important things to talk about, which is COMPLETELY OUT OF THE QUESTION. We MUST stay vigilant. I heard a rumor that offensive statements are now actually fatal if you expose your ears to them. Better not take any chances there.
Watch the video below, courtesy of ABC:
Have a tip we should know? tips@mediaite.com
Josh Feldman - Senior Editor