George Takei And Donald Trump Will Meet For Lunch Summit On Marriage Equality In April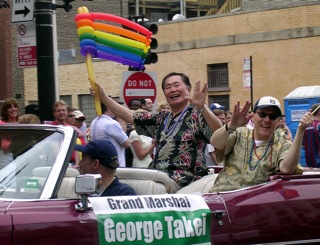 Vocal same-sex marriage advocate (and Celebrity Apprentice contestant) George Takei is taking his campaign to change one mind at a time on gay rights to his former reality TV boss Donald Trump. After inviting Trump to lunch at New York restaurant Jean Georges over a conference call, he got a positive response and the two have now set a date.
RELATED: Gay Rights Activist Plans To Boycott Donald Trump: 'Unconscionable That He Could Exist In NYC'
Takei tweeted this morning: "Donald Trump has accepted my lunch invitation to hear me out on same-sex marriage. Hope I can change his mind! #OneStateOnePersonAtaTime." The story had already made headlines, however, when the challenge to sit and chat occurred yesterday. According to the New York Daily News, the invitation came on Thursday, and it was only a matter of setting a date:
Takei, 74, said Thursday the two have a tentative lunch date set for April after they agreed to discuss the hot-button issue over hot plates in a top Manhattan restaurant.

"Next time I'm in New York, Mr. Trump, I might take you to Jean Georges for lunch, and maybe we can discuss marriage equality," Takei proposed during an "Apprentice" conference call with reporters this week.

"You would be the perfect guy to teach me," Trump responded. "You have a deal."

Trump, 65, said he adamantly opposed gay marriage when he was courting conservative voters for a 2012 presidential run that never materialized.
Takei told the paper that he "really was serious" and considered Trump "a decent, fair-minded guy," so he thinks he has a good chance of convincing him by "speaking to his specific concerns." While we will have to wait a month to see whether Takei succeeds on this challenge, the Star Trek star is accepting challenges from Trump weekly on Celebrity Apprentice.
[Photo via]
Have a tip we should know? tips@mediaite.com