George W. Bush Describes Getting Call From Obama About Osama Bin Laden Death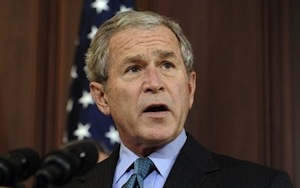 Ever since Barack Obama announced the capture and killing of Osama bin Laden, many in the media have sought commentary from former President George W. Bush. ABC News is reporting that, during an appearance Wednesday at a conference of hedge fund managers in Las Vegas, the Bush made his first candid public comments on the killing of bin Laden saying "The guy is dead. That is good."
Writing for ABC News, Devin Dwyer reports:
"I was eating souffle at Rise Restaurant with Laura and two buddies," Bush said when asked what he was doing when he received the call from President Obama, according to an ABC News contributor who attended the event.

"I excused myself and went home to take the call," Bush said. "Obama simply said 'Osama Bin Laden is dead.'"

Bush said Obama described in detail the secret mission to raid bin Laden's Pakistani compound and the decision he made to put the plan into motion. He told Obama, "Good call."

The 43rd president and man who initiated the hunt for bin Laden after the 9/11 attacks has shied from the spotlight since news broke nearly two weeks ago. Bush has declined interview requests and Obama's invitation to join him at Ground Zero to meet with victims' families and first responders four days after the raid.
The report reveals a graceful and appreciative reaction by the former president, who goes out of his way to laud many of the groups involved, including Team SEAL Six and the U.S. intelligence community. Read the entire report at ABCNews.com.
Have a tip we should know? tips@mediaite.com
Colby Hall - Founding Editor