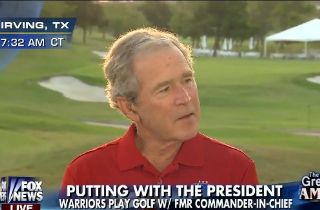 In an interview with Fox & Friends host Brian Kilmeade, former President George W. Bush addressed his brother Jeb's chances of running for president in 2016. And in a very rare journalistic occurrence, Kilmeade was not the one who brought up the question. It was the former president himself who brought it up.
"I, of course, was pushing him to run for president," Bush said. "He, of course, was saying 'I haven't made up my mind,' and I truly don't think he has. And plus, I don't think he liked it that his older brother was pushing him."
Bush agreed with Kilmeade that being a governor is a good "prerequisite" to becoming president and establishes the proper skill set.
He even went as far as to say that his brother "wants" to be president.
"He understands what it's like to be president for not only the person, or serving, plus family," Bush said. "He's seen his dad, he's seen his brother, and so he's a very thoughtful man and he's weighing his options."
A recent Iowa poll showed former GOP presidential nominee Mitt Romney with a strong lead in that state.
It is worth noting once again that President Bush brought up the topic of his brother running for president, and was not prompted by a question about it from the interviewer. It is extremely rare for former presidents to speculate about electoral politics.
Watch the video below, via Fox News:
[Image via screengrab]
— —
>>Follow Andrew Desiderio (@forza_desiderio) on Twitter
[Note: Mediaite intern Andrew Desiderio is a student at The George Washington University.]
Have a tip we should know? tips@mediaite.com