George W. Bush Jokes To Stephanopoulos: 'You're Reporting It' Doesn't Mean It's True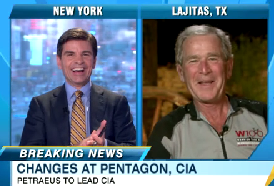 Former President George W. Bush is going on a three-day mountain bike ride in Texas with soldiers who were wounded in combat in Iraq and Afghanistan to help raise awareness for the Wounded Warrior Project. He appeared with George Stephanopoulos this morning to promote the cause and seemed to be in a great mood as he playfully joked "you haven't lost a step Stephanopoulos."
Bush tried to keep the interview focused on his bike ride, even laughing how the wounded soldier sitting next to him with one leg is faster than he is on a bicycle. Yet Stephanopoulos couldn't resist the opportunity to get Bush to weigh in on some of the news of the day. Regarding the announced White House personnel changes, Stephanopoulos asked Bush what his thoughts were about Leon Panetta and David Petraeus. Bus responded that "both of them are good men" before launching into this very funny exchange:
Bush: Is this gossip or truth?
Stephanopoulos: No, it's truth, we are reporting it this morning. It is done. It's being announced later this week.
Bush: Just because you're reporting it, as you might recall, doesn't necessarily mean . . . (laughter)
Stephanopoulos: I'm fairly confident on this one, this morning Mr. President.
Stephanopoulos tried to get Bush's opinion on high gas prices too, but Bush laughed at his persistence and instead reiterated his desire to stay out of the daily dialogue. In the final moments, Bush showed genuine admiration for the wounded warrior sitting next to him as he embraced him. Overall, a surprisingly touching and humorous appearance from the former President.
Watch the clip below from ABC:

Have a tip we should know? tips@mediaite.com