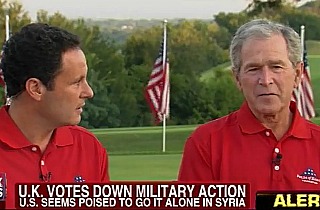 President George W. Bush appeared on Fox News Channel on Friday where he discussed his recovery from a recent heart surgery and his charitable works for veterans. Fox & Friends host Brian Kilmeade asked Bush for his thoughts on the debate over whether to intervene in the Syrian civil war. Bush said that President Barack Obama has a hard decision to make, the hardest any president can make. While Bush said that he is not a fan of Bashar al-Assad, he refused to be "roped in" to giving an opinion as to whether a strike on Syria was justified.

RELATED: Breaking: U.K. Votes Down Resolution Authorizing Syria Intervention
Kilmeade said that, while he knows Bush does not like to talk about what's in the news, he can talk about the Syria he dealt with as president.
"The president's got a tough choice to make," Bush said. "And if he decides to use our military, he'll have the greatest military ever backing him up."
"I was not a fan of Mr. Assad," he added, when asked to recall the insurgency in Iraq. "He's an ally of Iran and he's made mischief."
Bush laughed when Kilmeade said that the rest of the world is now waiting on the United Nations to bless a possible strike. "The president has to make a tough call, Brian," Bush said. "I know you're trying to subtly roll me into the issues of the day. I refuse to be roped in."
Watch the clip below via Fox:
—
> >Follow Noah Rothman (@NoahCRothman) on Twitter
Have a tip we should know? tips@mediaite.com