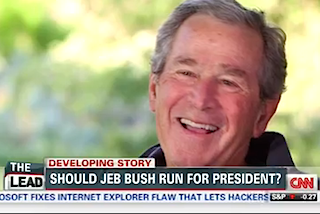 Former President George W. Bush sat down for a wide-ranging interview with CNN's Jake Tapper Thursday that covered everything from veterans issues to U.S. relations with Russia. It wasn't until the end of the conversation that Tapper brought up his younger brother, Jeb Bush, who has been in the news of late as a possible Republican presidential contender for 2016.
"I really have not talked to Jeb about the presidency," Bush told Tapper. "It's hard for people to believe." That being said, Bush added, "I hope Jeb runs. I think he would be a great president. I have no clue what's on his mind. And we'll talk when he's ready."
When Tapper brought up the positive polling results Jeb Bush has seen recently, at least among Republicans, the former president dismissed them as being unimportant to his brother's decision.
"That don't mean anything for him," Bush said. "I can guarantee he's not looking at a poll to decide whether or not he wants to run. It's an internal — he's checking — he's checking his core. And as he said publicly, 'I think about my family.' And of course he knows full well what a run for the presidency can do on family after he's seen his dad and his brother run for president."
"I'm confident he can reach out to people that may at this point feel like the Republican Party doesn't listen to them," Bush continued. "And I'm also pretty confident he won't be making any definitive decision until after the 2014 elections. It's probably right about this time next year, I would guess. But so, hey, Jeb, if you got — if you need some advice, give me a call."
Watch video below, via CNN:
[Photo via screengrab]
— —
>> Follow Matt Wilstein (@TheMattWilstein) on Twitter
Have a tip we should know? tips@mediaite.com