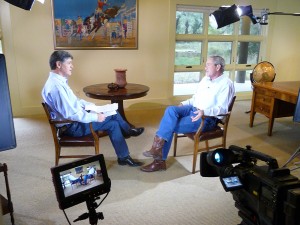 Why should Matt Lauer get all the "fun"? He shouldn't: Sean Hannity also sat George W. Bush down for an intimate, necktie-free conversation at the former president's ranch in Crawford, TX. In a preview clip from the interview, which is set to air on Fox News tomorrow, Hannity asks Bush his thoughts on the Tea Party's emergence. "Here's what I see," our most recent Republican president said. "I see democracy working."
The self-proclaimed compassionate conservative sympathized with the anti-establishment movement, citing Senator Scott Brown's election as a watershed moment that changed attitudes and inspired concerned voters to "take to the street," as well as to the polls.
According to early excerpts from the interview, Bush also discussed the different ways in which he and people like President Obama deliver their messages:
Words matter. The modern president is, of course, every word is analyzed. And sometimes I didn't get my words right. And I never tell these audiences I speak to, you didn't elect me cause I was Shakespeare.
(Some have argued that they didn't elect him at all, but that's a different matter altogether.) Other topics in the interview will include 9/11, the wars in Afghanistan and Iraq, Hurricane Katrina, and other landmark moments of his eight-year tenure in the White House.
It's hard to tell whether the Hannity interview will have the same kind of fireworks as the Lauer interview, which touched upon drunken hijinks, Kanye West, and a jarred (and jarring) fetus. But then again, Fox News is never short of fireworks, so hopefully the hour will be both highly informative and highly watchable.
Watch Bush's thoughts on the Tea Party in the Hannity clip below:
Have a tip we should know? tips@mediaite.com