George W. Bush To NatGeo: 'I Felt A Sense Of Closure' Upon Learning Of Bin Laden's Death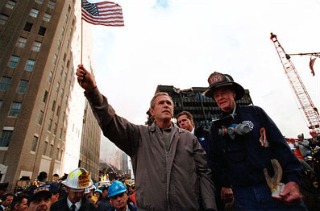 Former president George W. Bush is set to give his reaction to the capture and killing of Osama Bin Laden — a name that loomed over much of Bush's presidency — in an upcoming special for the National Geographic Channel set to act as the cornerstone for programming commemorating the 10th anniversary of the attacks on September 11th.
In an interview that took four months to negotiate and which eventually happened to be scheduled two days after the world learned that SEAL Team Six members had found and shot the terrorist mastermind at his Abbottabad compound, Bush shares his first thoughts on the day the World Trade Center fell and the Pentagon collapsed. The Hollywood Reporter was able to obtain exclusive quotes from the film:
One of my concerns, like the concerns of other husbands and wives, was, "Was my spouse okay? Was Laura okay? And my second concern was "Were our girls okay?"… And I finally found her [Laura]. She was in a secure location. And it was awesome to hear her voice. And she had talked to the girls. And they were secure.
Bush also recounts that his reaction to news of Bin Laden's death, which he discovered after rushing home from a Dallas restaurant to take a call from President Barack Obama, was more somber and meditative than outright joyful:
I didn't… feel any great sense of happiness. Or jubilation. I felt a sense of closure. And I felt a sense of gratitude that justice had been done.
The documentary, directed by Peter Schnall, a New York-based filmmaker who had previously gotten to know President Bush when the two flew together on Air Force One in preparation for an earlier documentary film, was also able to get the former President to open up and give a rather lyrical account of his visit to Ground Zero in the days following the attacks:
From the air it looked like… a giant scar. But when I actually got to the site, it was like walking into hell.
George W. Bush: The 9/11 Interview premieres August 28th on the National Geographic Channel.
Have a tip we should know? tips@mediaite.com