George Will On Obama's Leadership: 'He Has Astonishing Faith In His Persuasive Powers'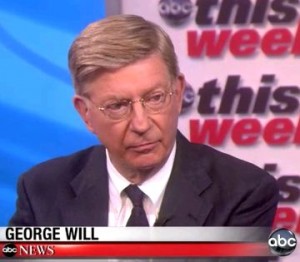 On ABC's This Week, George Will argued that over the course of Barack Obama's term in office, the president has put too much stock in his speeches and the power of persuasion, which has made him a less effective leader overall.
Christiane Amanpour introduced the segment with a summation of the Jacqueline Kennedy tapes released last week, proposing that it is in times of crisis when a president's mettle is put to the test. Will did not think President Obama was effective enough on policy and focused too much on speeches during his presidency so far.
"He went to Massachusetts to campaign against Scott Brown. Scott Brown is now a senator. He went to New Jersey to campaign against Chris Christie, who's now the governor. He went to Virginia to campaign against Bob McDonnell, who's now governor. He campaigned for the health care plan extensively, it became less popular. He campaigned in 2010 for the Democrats, they were shellacked. He began, in a sense, his presidency flying to Copenhagen to get Chicago the Olympics. Chicago was the first city eliminated. There is no evidence that the man has rhetorical powers he is relying on."
Historian Michael Beschloss suggested the president simply does not like political conflict, and contrasted his leadership style with those of Presidents Kennedy and Johnson. Cokie Roberts argued that Lyndon Johnson's hands-on approach in dealing with the Senate made passage of the Civil Rights Act the success that it was. Conversely, Roberts thought President Obama was "inexperienced in dealing with the legislative branch."
The whole panel laughed at the "Fire Everybody And Start Over" approach James Carville proposed last week, while ABC's Jonathan Karl pointed out that Obama's toughest critics are, in fact, Democrats. He contrasted Obama's fiery "Pass this bill!" rhetoric with Congressional uncertainty on when the bill is actually going to be passed. Not to mention a handful of Democrats would vote against the American Jobs Act if a vote was held today.
Watch the video below, courtesy of ABC:
Have a tip we should know? tips@mediaite.com
Josh Feldman - Senior Editor