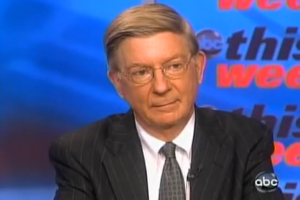 We're now less than two years away from the next presidential election, which means it's time for 2012 presidential speculation to begin! The first This Week of the year kicked off the talk with some of the biggest names on the Republican side, and George Will seems to have found through the litany of names what he called "the President's secret weapon": Sarah Palin's inability to be elected.
Asked by Jake Tapper (filling in for Christiane Amanpour) to evaluate the Republican landscape for November 2012, Will began by addressing the fact that Mike Huckabee had performed particularly well in the primaries in 2008– better than Mitt Romney— and then added this salacious tidbit of speculation:
"The President's secret weapon may be the Republican nominating electorate… There is one person, high in the polls, Sarah Palin, who cannot be elected president because she cannot compete where elections are decided. In the collar counties outside Chicago, Montgomery County outside of Philadelphia– just can't compete there."
He went on give some predictions based on the fact that nominees, he explained, tend to win the majority of electoral votes in the Mississippi Valley– giving Gov. Tim Pawlenty, Sen. John Thune, and the suddenly-popular Gov. Mitch Daniels a leg up in that area.
It will be interesting to see if and when Palin confronts such derision, especially if this will set the tone for how pundits will discuss her chances for the rest of the year. While in 2010– two years removed– she could afford to be glib about it over Twitter, her chances as she races the clock will increasingly depend on how presidential she can come across, that trait one that, using her behavior last year alone, may be easy to "refudiate."
The clip from today's This Week on ABC below:

Have a tip we should know? tips@mediaite.com