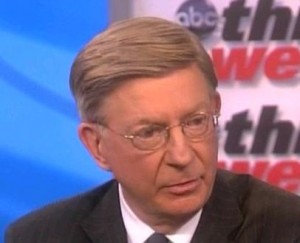 Christiane Amanpour asked George Will about Rick Perry's "very bad week" on This Week today, but before discussing the Texas governor's presidential campaign, Will disclosed that his wife Mari Maseng joined the Perry campaign last week, making her focus campaign messaging and debate preparation. Will's wife has worked previously as communications directors to both Ronald Reagan and Bob Dole. In the past few weeks, Will has written several columns in the Washington Post, one of which was highly critical of Mitt Romney, one of Perry's chief rivals in the field.
Politico notes that on last Sunday's edition of This Week, Will was very critical of not just Romney but Herman Cain. In fact, according to Will, some Romney advisors have been claiming Will now faces a conflict of interest in criticizing their candidate.
"Some of the more excitable and perhaps the less mature members of the Romney campaign have tried to make this personal. At the Michigan debate, after the debate, Mari waved a hand to Mitt Romney, they came over and talked, they've been guests at our dinner table, and Romney gave her a kiss on the cheek and they went their separate ways. They're both mature professionals."
When Amanpour asked Will if Perry now has a better chance of winning the nomination, he quipped, "Well, he's got better advisors." On a more serious note, Will reminded viewers of President Obama's "57 states" gaffe and that getting tongue-tied every once in a while is natural for a politician running to be the leader of the free world.
Watch the segment below, courtesy of ABC:
Have a tip we should know? tips@mediaite.com
Josh Feldman - Senior Editor