George Will: If Romney Falls Below 31% With Latino Voters, 'He's Going To Lose'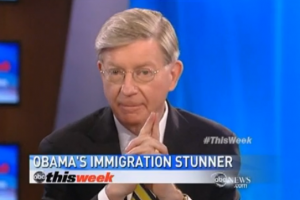 On This Week, the panel took a look at President Obama's recent policy change regarding undocumented immigrants. A change that has, somewhat predictably, elicited criticism from Republicans because the inherent nature of an executive order entails bypassing Congress. The discussion led to the larger topic of the influential Latino electorate, with George Will noting the tricky position Mitt Romney has found himself in.
Will said he supports the DREAM Act, but that he also supports the Constitution and the separation of power. Thus, he said, he believes these goals should be accomplished through the legislative route. But, George Stephanopoulos countered, "He tried and it didn't happen."
"Well that's too bad," Will said. "Our system is designed to be difficult to move, and if it doesn't move, you try and try again — and you don't just say, 'Well the Constitution's fine, I give it one try then we'll do something else.'"
During the Republican primary race, Will said, the candidates spent their time competing for who could build the "longest, thickest, tallest, most lethally electrified" fence. And, the Hispanics noticed. Now, Will said, Romney has a big hole to dig himself out of, because if he falls below the 31 percent of Hispanic voters John McCain got, "he's going to lose."
Former Republican presidential hopeful Tim Pawlenty chimed in, arguing that Obama had plenty of time to tackle this topic before — particularly when he had a Democratic majority to work with. Romney, he said, does want to find a long-term solution, and has said as much.
The Nation's Katrina Vanden Heuvel called Obama's policy an act of leadership. In light of the "congressional failure to act," she said, Obama was within his authority. She drew a parallel to the Emancipation Proclamation, which Will took issue with, saying it was during a war.
Take a look, via ABC:

Have a tip we should know? tips@mediaite.com