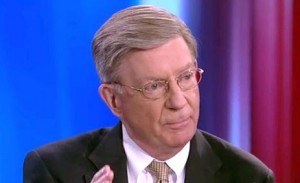 One week ago, Mitt Romney was the inevitable GOP nominee, the impossible-to-defeat frontrunner who was going to take three states in a row and end the primary season earlier. As George Stephanopoulos put it, what a difference a week makes. Now Newt Gingrich is back in the spotlight, and many analysts are wondering where Romney could have gone wrong. George Will's take? Romney just has too much… Romney in him.
RELATED: George Will On Romney: The Republicans Have Found Their Michael Dukakis
Will explained that in the past five elections, it was always Candidate A winning Iowa, Candidate B winning New Hampshire, and either A or B winning South Carolina and claiming the nomination. He argued that the only "trump card" Romney had to play was electability, despite his staggering lose-to-win ratio since 1994. But getting to the precise reason Romney wasn't doing so well, Will had a profoundly unique answer.
"We all thought going in that the big problem for Romney might be his Mormonism, it might be the Massachusetts health care plan. That's not it. Mitt Romney's problem is somehow his Romneyness. That is, the fact that people are just not connecting with him. Not just that he's the first candidate we've ever had from the financial sector, which turns out to be a problem because finance is a, mysterious, and b, disliked, but there's something about him that is not connecting."
Matthew Dowd explained Romney came in the race with the clearest way forward of any candidate, and yet so much damage has been done so far. He attributed Romney's problems not to Romney's Romneyness, but to his "Mittness," because of his inability to sell himself as the ideal candidate to face Obama in the general election.
RELATED: ABC's Matthew Dowd On This Week: Mitt Romney Has Bigger Problems Than His Mormon Faith
Watch the video below, courtesy of ABC:
Have a tip we should know? tips@mediaite.com
Josh Feldman - Senior Editor