George Will: Obama Needs Supercommittee To Fail If He Wants To Run Against Do-Nothing Congress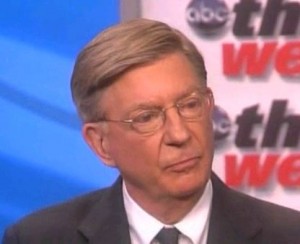 On This Week today, George Will claimed that if President Obama should be hoping that the Congressional supercommittee convened to come up with a bipartisan plan to balance the budget and deal with high unemployment will fail, because he can't run against a do-nothing Congress in 2012 if the public sees Congress is actually doing something.
Christiane Amanpour showed a new ABC/Washington Post poll that shows that President Obama and the Republican Congress are roughly given the same amount of trust, 40 percent, when it comes to the issue of job creation. This marks a blow for the president, whose numbers on this particular issue were more impressive only one month ago. Matthew Dowd predicted Obama's numbers would only get worse in the coming months "unless the economy really changes and the public really feels it," and even suggested the United States is in an economic "funk" right now.
On the subject of the Congressional supercommittee that people are expecting to draw the economy out of a funk, Will argued that rather than hoping a deal is agreed upon, the president should hope that no decision is made in the near future because it may help his reelection chances.
"The president needs this committee to fail because he's already decided to run against what he calls the Republican Congress. While he was lecturing in Constitutional law, he missed that part of Article I that says there's a Senate also, and the Democrats control that, and as Boehner said, they're holding up a lot of legislation. If he's going to run against a do-nothing Congress, it has to do nothing."
Watch the video below, courtesy of ABC:
Have a tip we should know? tips@mediaite.com
Josh Feldman - Senior Editor