George Will Savages Trump: He's A 'Bloviating Ignoramus' With A 'Very Low' IQ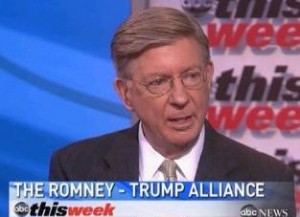 After fading in and out of our lives like a seasonal illness for which there is no cure, Donald Trump is back in the news once again as a reinvigorated birther with wild claims about President Obama's origins. Of course, this story wouldn't be much of interest except for the fact that Mitt Romney is currently offering donors a chance to dine with the billionaire through his campaign. George Will, frankly, has had enough of Trumpmania, bashing the tycoon as a "bloviating ignoramus" with no net benefit to Romney's campaign.
RELATED: Donald Trump Rips In To George Will: 'He's A Totally Overrated Fool'
Jake Tapper asked Will why Romney, who most certainly wants to be taken as a serious candidate, would ally himself with someone as out there as Trump is. Will did not mince words, though he did mince Trump quite a bit.
"I do not understand the cost-benefit here. The costs are clear. The benefits, what voter's going to vote for him because he's seen with Donald Trump? The cost of appearing with this bloviating ignoramus is obvious, it seems to me. Donald Trump is redundant evidence that if your net worth is high enough, your IQ can be very low and you can still intrude into American politics."
Oh, snap, crack, and sizzle.
Fox Business Network anchor Liz Claman said that the Romney campaign should really be looking at a cost-benefit analysis of whether Trump helps them get votes or not. Tapper and the panel couldn't help finding it amusing that the Trump dinner came on the heels of a similar dinner offered by the Obama campaign with George Clooney.
Watch the smackdown below, courtesy of ABC:
Have a tip we should know? tips@mediaite.com
Josh Feldman - Senior Editor