George Will Touchingly Eulogizes Geraldine Ferraro As 'Instrument of Identity Politics'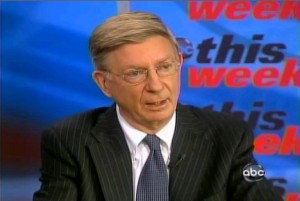 As the country grieves the loss, on Saturday, of trailblazer Geraldine Ferraro, the first female candidate on a national ticket, it's important for public figures to find the right words to take the measure of her place in history, and of her loss. Into that breach stepped George Will Sunday morning on This Week, who followed a clip of Ferraro's inspirational words to the Democratic National Convention in 1984 with a eulogy worthy of a Vulcan tax accountant.
Running short of time, guest host Jake Tapper played a short clip from Ferraro's acceptance speech at the 1984 Democratic National Convention, in which she spoke stirringly about the significance of her nomination, and its reflection of America's greatness. Tapper then tossed to Will, who pointed out, correctly, that America was "late to the party," having been beaten to the punch by other world powers with female heads of state. It wasn't the most well-timed observation, but it's a fair one to make, I suppose, as long as the goal is not to diminish Ferraro's accomplishment.
Then, Will took his rhetoric from not-so-warm to Hoth Swimsuit Competition, saying that Ferraro was "an instrument of identity politics," and rattled off Walter Mondale's lack of success with Ferraro's key demographics. Due to the show's time constraints, Will's words were left to echo in the air like a kid who belches the word "f**k" in a planetarium. From ABC News' This Week:
No one with even a passing familiarity with George Will would have expected the iconic conservative pundit's remarks to be a tearjerker, but they also wouldn't expect him to just be a jerk. But just as the demographic stats that Will rattles off say more about America than they do about Ferraro, so, too, do Will's classless words say more about him.
Have a tip we should know? tips@mediaite.com