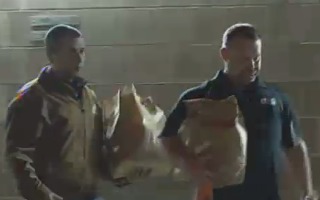 George Zimmerman, the man who shot Florida teenager Trayvon Martin, has been released from jail on a bond. Zimmerman received the news that he would be allowed to leave jail while the trial process transpires, with a number of caveats including a high bond payment, curfews, and a GPS monitoring system.

RELATED: George Zimmerman's Bond Set At $150,000

CBS News reports that the judge decided to release him under several conditions because he considered him not to be an imminent threat, or a flight risk:
Zimmerman was granted bond at a hearing Friday because Seminole County Circuit Court Judge Kenneth Lester was persuaded he was not a flight risk and, despite Zimmerman's killing of Martin, believed he posed no threat to his community.

Lawyers were working out the conditions and security restrictions of Zimmerman's release, as well as the precautions for his safety. It's possible he could stay outside Florida while awaiting trial. And it's all but certain his location will be kept secret.
The conditions of his release are a $150,000 bond (of which his family only had to pay 10% for now), GPS monitoring, and a curfew from 7 PM to 6 AM. He is not allowed to contact Martin's family, drink, or possess firearms, and must report back where he is every three days. Some have posited, like CBS, that he could potentially leave the state for his safety during the interim while he waits for trial, but the location prepared for him by attorneys and law enforcement is being kept secret for his own safety.
As the below video from CNN shows, Zimmerman exited Sanford, Florida's John E. Polk Correctional Facility around midnight Sunday. He did not speak to reporters:
Have a tip we should know? tips@mediaite.com