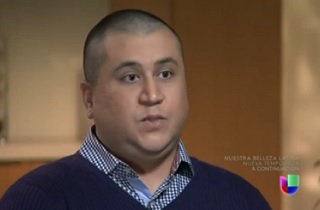 George Zimmerman, the neighborhood watch captain cum artiste who was acquitted of the murder of 17 year-old Trayvon Martin, is in the news again because of his interview with Chris Cuomo of CNN's New Day, but on Sunday, Univision's Aquí y Ahora aired its own exclusive interview with Zimmerman, in which he told correspondent Ilia Calderon that he is now "totally homeless," wears a bullet-proof vest, and is even refused the occasional sandwich.

In his interview with CNN, Zimmerman took pains to point out that he was victim, and in his talk with Univision's Ilia Calderon, he expounded on his woes. "If I need medical attention, I wait until I have to go to the Emergency Room because I can't go to see my doctor regularly like I could before," Zimmerman told Calderon, explaining that his doctor used to allow him to go in through the back door, but "not anymore," and he has no money for bodyguards.
He also described an occasion at the grocery store when "I was recognized and I was at a deli. They were making a sandwich for me, and they decided not to make me the sandwich."
Zimmerman explained that he doesn't stay in one place long enough for people to recognize him, telling Calderon that he is "totally homeless" and that he suffers from PTSD.
Here's that portion of the interview, followed by the English translation of the entire interview, from Univision:
English Transcript (as provided by Univision):
Have a tip we should know? tips@mediaite.com