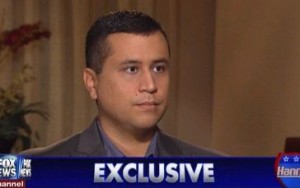 Sean Hannity aired an exclusive interview tonight with George Zimmerman, the Florida man who fatally shot Trayvon Martin and is charged with second-degree murder. Zimmerman described how he first noticed Martin as a suspicious presence in the neighborhood, the 911 call he made, and the violent confrontation between the two that led Zimmerman to pull out his gun and shoot Martin in self-defense, as he claims.


Zimmerman said he carried a gun around everywhere except for when he went to work. Hannity asked Zimmerman why he thought Martin looked suspicious. Zimmerman said he got a strange vibe from Martin that set off alarm bells in his head, and when he made the 911 call, he was concerned about Martin's "confrontational" demeanor, but he didn't feel very threatened at first. He explained that he was following Martin so that he could update the police on the situation, not because he wanted to personally track him down.
In the second part of the interview, Hannity asked Zimmerman about the "minute gap" following the instructions from dispatch that following Martin wasn't necessary. Zimmerman denied continuing to follow Martin, but said he ran into Martin roughly 30 seconds later. He explained that Martin confronted him about what his "problem was," and when Zimmerman went to grab his phone, Martin ran up and punched him in the nose.
Zimmerman said Martin then bashed his head into the sidewalk, and at that point he was yelling for help. He told Hannity that Martin was cursing at him, telling him to shut up, and even saying "he would kill me" as the beating took place. Zimmerman said the screaming recorded on a 911 call was him as he was being beaten.
Hannity asked ZImmerman about what was going through his mind when he reached for his gun to defend himself. Zimmerman said "it happened so quickly" that he can't remember his thought process at the time.
Watch selected segments below, courtesy of Fox News:
Part 2:
Have a tip we should know? tips@mediaite.com
Josh Feldman - Senior Editor