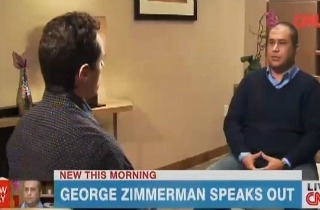 In the wake of the verdict in the trial of Michael Dunn for the murder of Jordan Davis, George Zimmerman sat down with CNN's New Day host Chris Cuomo to discuss his reaction to that trial and share his reflections on his own bloody encounter with Florida teen Trayvon Martin nearly two years ago.
"Do you regret that you killed Trayvon Martin?" Cuomo asked.
"Unfortunately, the Department of Justice is conducting a civil rights investigation," Zimmerman said. "Certainly, I think about that night and I think my life would be tremendously easier if I stayed home."
Cuomo repeatedly asked Zimmerman if both he and Martin would be alive today if he could alter how the events of that night unfolded. "That's a presumption I can't make," Zimmerman said.
RELATED: 'Stand Your Ground' PSA Features Full-On Reenactment of Trayvon Martin Shooting
Cuomo asked if Zimmerman had a message for Martin's family. Zimmerman said he apologized to the Martin family during his bond hearing. "It's different in court," Cuomo observed. Zimmerman agreed and said he would like to speak to the Martins.
Zimmerman interrupted Cuomo when he said that Martin was the victim in that night's violence. Zimmerman stressed that he was also a victim when he was being attacked by Martin.
"When people reach out to you for the wrong reasons, who are supportive of you for the wrong reasons – because they like that a young black man had been killed – how does that make you feel?" Cuomo asked.
"Equally as disgusted with them as with people who were threatening my family," Zimmerman replied.
Zimmerman revealed that he knew his life would never be a normal life when he got his first speeding ticket after the trial and it made "international news." He had two other encounters with the law, both resulting from complaints from his ex-wife and his girlfriend.
Cuomo told Zimmerman that the image of Zimmerman engaging in a charity boxing match with an African-American rapper was "bad" considering his defense had been that he could not defend against a teenager. "The racial overtones of it were so horrible," he said.
Zimmerman said he was never told who his opponent would be and said that a controlled and refereed fighting match is far different from an assault on the street.
Cuomo said it was "confounding" that Zimmerman's next career path would be one oriented toward justice as the acquitted shooter aims to become an attorney. He said a "miscarriage of justice" was carried out against him and that his trial was not about the law.
Zimmerman said he had been made out to be a "scapegoat" for "the government, the president, the attorney general."
Watch the interview below via CNN:
Part 1:
Part 2:
[Photo via screen grab ]
— —
> >Follow Noah Rothman (@NoahCRothman) on Twitter
Have a tip we should know? tips@mediaite.com