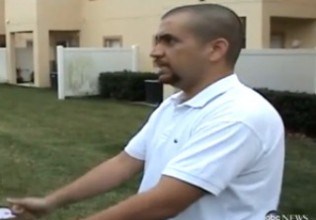 Still facing a criminal trial for his role in the shooting death of Florida teen Trayvon Martin, George Zimmerman is now suing NBC over the network's airing of a misleadingly edited version of his 911 call, according to a report in The New York Post. Zimmerman's attorneys are naming NBC News President Steve Capus and correspondent Ron Allen in the suit over Today's March 27 broadcast of the edited tape.

RELATED: NBC Affiliate Aired Edited Zimmerman 911 Call Days Before Today Show Did
"The suit will be filed imminently against NBC and its news executives. The network's legal department has put everybody in the news department involved with this incident on notice, telling them not to comment," an unnamed source close to Zimmerman told the Post.
NBC and MSNBC aired a version of the 911 tape featured Zimmerman telling a 911 operator prior to his shooting of Martin, "This guy looks like he's up to no good. He looks black."
NBC edited out the 911 operator prompting Zimmerman to divulge his impression of Martin's race.
Zimmerman: This guy looks like he's up to no good. Or he's on drugs or something. It's raining and he's just walking around, looking about.

Dispatcher: OK, and this guy — is he black, white or Hispanic?

Zimmerman: He looks black.
Soon after the tape aired, NBC launched an internal investigation and eventually fired two Miami-based NBC News employees over the scandal.
Read the full report via The New York Post
> >Follow Noah Rothman (@Noah_C_Rothman) on Twitter
Have a tip we should know? tips@mediaite.com