Zimmerman's Attorney: If Jury Rules Trayvon Was Aggressor, Is That A 'Loss For Civil Rights'?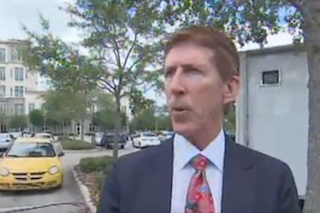 Following a judge's ruling on Tuesday to not admit elements of Trayvon Martin's past, including drug use and prior incidents of fighting, as evidence in the murder trial of George Zimmerman, CNN's Victor Blackwell interviewed Zimmerman's attorney Mark O'Mara on this decision's potential ramifications to the defense's argument, especially given the loaded racial connotations of the case.
"Parks and Crump," Blackwell asked, referencing the Dickensian-named law firm representing Martin's family, "have said a lot about how this is a landmark in justice as it relates to African Americans, and racial injustice. How do you keep this trial limited to a few minutes on one night in February?"
"Well, let me ask you this. If they acquit George because the jury says Trayvon was the aggressor, if they make that decision, is that going to be a loss for civil rights? Is it? If the jury decides he's acquitted because Trayvon was the aggressor, is that a civil rights event? I would suggest not. If they convict George because they think he was the aggressor, is that a benefit to civil rights? Some might say maybe, because at least a young black male victim of a homicide was justified, or his loss was not in vain. So they might say, 'If you get the conviction then at least he wasn't a lost life.' Maybe. But the real decision is going to be who was the aggressor and whether or not George acted reasonably. Those two decisions have nothing to do with rights. They just don't.

"Now, had the case never gone to trial, maybe. Had they said, 'We're not going to prosecute this guy because he killed a black kid,' then, okay, maybe that's a civil rights issue. But the jury decides what they're going to decide, I just don't see the civil rights connotation to it. I know civil rights, not as well as many of my compatriots, but I know it pretty well. And I grew up in the Sixties and Seventies, so I get a feel for this stuff, and I don't see civil rights in this day today."
"Was today a loss for you?" Blackwell asked.
"No!" O'Mara said. "I like the idea that we're limiting the evidence to what it should be. It was five to six minutes that happened from the time of the non-emergency call to the time of the gunshot and afterwards with the emergency call. If we limit it to that, whatever that jury decides has to be the proper verdict, as long as they follow the evidence and the law, and then we're done."
Watch the whole interview here:
—
>> Follow Evan McMurry (@evanmcmurry) on Twitter
Have a tip we should know? [email protected]