Geraldo and Ann Coulter Stick Up For Sarah Palin; Levi Johnston Milks Spotlight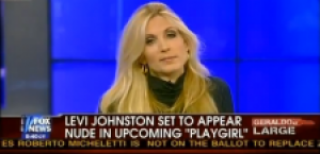 Sarah Palin can rest assured that at least somebody is willing to stand up for her and her family to the embarrassing comments that are fueling Levi Johnston's stay in the spotlight (most recently, his remarks that Palin regularly called her youngest son Trig her 'retarded baby').
And last night on Geraldo at Large it was Ann Coulter and Geraldo Rivera himself who were sticking up for Palin while discussing how the media's coverage of Johnston — most recently on the CBS Early Show — has been terribly overblown.
Johnston, who Rivera called a "fly in Palin's ointment," has also managed to prolong media attention by milking his upcoming Playgirl photoshoot, and in addition to maintaining a steady flow of juicy anecdotes about his time living in the Palin household.
"I think it does not tell us anything about Sarah Palin," said Ann Coulter on Fox with Geraldo, arguing that Johnston is no longer newsworthy because he has nothing valuable to reveal about Palin. "She moved her daughter to another school to keep her away from this white trash idiot."
Geraldo punctuated Coulter's white trash remark by mentioning that "his mom is now in jail [for] selling Oxycontin."
Coulter also challenged Johnston's trustworthisness, saying "Wow, you don't get a lot of fact-checking from these lies he's telling from the mainstream media."
The segment ended with a laugh, however, when Rivera read a statement from Palin, denouncing Johnston's decision to pose for Playgirl, saying "those who would sell their body for money reflect a desperate need for attention. And then immediately upon finishing the statement, Geraldo posted a picture of his own Playgirl cover — "Probing. Pushy. Perfectionist."
Ann Coulter with Geraldo Rivera on Geraldo at Large:


Related: Levi: I'm Hiding "Huge" Things About Palin (He's Not Talking About Playgirl)
Have a tip we should know? tips@mediaite.com