Geraldo And Eric Bolling In Screaming Match Over Attempts To Blame Obama Admin. For Benghazi Deaths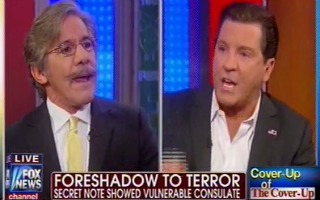 On Friday's Fox & Friends, Geraldo Rivera and Eric Bolling engaged in what nearly became a screaming match as they hashed out the continuing scandal regarding the White House's response to September's attack on an American consulate in Libya. Rivera became agitated with Bolling who he said was disseminating false information in order to make a political point against President Barack Obama.

RELATED: Geraldo And Eric Bolling Battle Over Violent Threat Posed By The Muslim Brotherhood
Rivera detailed precisely why he thought that the United States government did all that they could at the time of the attack, and that investigation into this incident is flawed given its proximity to the upcoming election.
He said that the fighting in the compound in Benghazi was over by the time Washington became aware of the crisis.
"So, Washington, the State Department, the CIA sends no help," Bolling said.
"That is an obscene lie," Rivera shot back. "You are a politician looking to make a political point."
Bolling and Rivera engaged in crosstalk as Rivera attempted to claim that there were no assets available to rescue the trapped American diplomats in a safe house near the compound. Bolling claimed that regional rescue teams were available to help the besieged diplomats and Marines.
"You are misleading the American people because you want to make a political point," Rivera said. "We have never in the history of this republic mounted a raid on the circumstance described here ever."
Rivera said that the outspoken father of the slain American soldier who died in Benghazi, Charles Woods, is being misled in an attempt to smear President Obama.
Watch the clip below via Fox News Channel:
> >Follow Noah Rothman (@Noah_C_Rothman) on Twitter
Have a tip we should know? tips@mediaite.com