Geraldo And Eric Bolling Trade Barbs Over Administration's Handling Of Libya Attack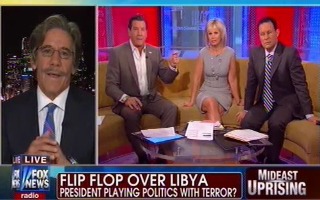 The administration of President Barack Obama has been subject to some criticism for their response to attacks on 9/11/12 that resulted in the death of America's ambassador to Libya. On Friday's Fox & Friends, Eric Bolling and Geraldo Rivera engaged in a continuous back and forth over the administration's response to those attacks.

RELATED: Jake Tapper Grills Ambassador Rice Over Foreign Policy: 'Why Does The U.S. Seem So Impotent?'
In a discussion about U.N. Ambassador Susan Rice's series of Sunday show appearances last week in which she claimed the attacks were spontaneous, Rivera made a point of refusing to attribute malice to the administration's motives for allowing her to do that. He called the administration's early insistence that the attacks were spontaneous "naïve."
After he was challenged on this point by the Fox & Friends hosts, Rivera conceded that in retrospect Rice appears to have been being "disingenuous."
"That's more like it, Geraldo," said Bolling. "There is no way that they are just now – seven, eight days after the attacks – realizing that this was a planned, pre-planned attack in retaliation for President Obama taking victory laps over killing bin Laden."
"Well, you just made a great leap there, Eric, as you customarily do," Rivera replied. "How do you know what the specific motivation was?"
"I don't, but I can tell you it probably wasn't a movie," Bolling replied.
Rivera said that there is clearly an element of Al Qaeda in Libya that are engaging in coordinated attacks against us, and that is where Rice mislead viewers on Sunday.
"How come you know that, Geraldo, and our ambassador doesn't know that, and our secretary of state doesn't know that and our press secretary doesn't know that," Bolling fired back.
"Her appearances last Sunday were the single most embarrassing moment, in terms of foreign affairs management, by the Obama administration in its history," said Rivera unequivocally.
"Fair enough," Bolling replied.
Watch the clip below via Fox News Channel:
> >Follow Noah Rothman (@Noah_C_Rothman) on Twitter
Have a tip we should know? tips@mediaite.com