Geraldo And Kilmeade Get Into Heated Argument Over Afghanistan: 'They Will Never Evolve Into Americans'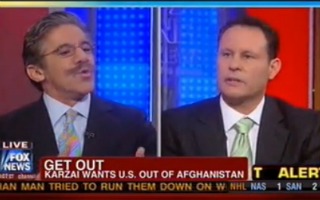 Geraldo Rivera stopped by the set of Fox & Friends early Friday morning, where he weighed in on the future of our war in Afghanistan — and entered into a heated debate with host Brian Kilmeade in the process.
The discussion started off with the news that an American soldier had been killed by an Afghan ally. "These are the worst of times in Afghanistan," said Rivera. "It's really horrible what's happening there, beginning with the Koran burning, which really turned the populace very hostile." The shooting of civilians by an allegedly "stressed" American solider, he added, has only added fuel to the fire. And then, of course, there was the "nutjob" who ended up killing himself at Kabul's airport, which — while apparently unrelated to the other incidents — only added to the existing tension.
RELATED: With New Info On Soldier, Morning Joe Panel Wonders If Afghan Shooting Constitutes 'Historic Moment' In War
When asked about American troops being made to leave their guns behind during a speech by Leon Panetta, Rivera advised viewing the moment in terms of a greater context, urging the show's hosts to remember the murders among soldiers that took place during Vietnam.
"Now let's talk about reality," Kilmeade weighed in, noting recent statements by Afghan President Karzai asking for U.S. troops to remain at their bases and stay out of the country's rural areas. "In reality," Kilmeade continued, "we're paying the bill for the entire security force of the Afghans, we are training them, and if we leave, he gets hung from the nearest lamp post."
"But let them do it, Brian," said Rivera, acknowledging that he doesn't quite understand what Karzai's "game" is in all of this either. "I say we've done what we went there to do. We have killed bin Laden, we have decimated Al Qaeda, we have accomplished our mission. Let's declare victory, bring these people home, don't let them be killed now by an ally and shot in the back!"
Kilmeade, on the other hand, believes that things were going to plan until the U.S. decided to pull troops out too quickly.
"Are we going to create an 'Afghanistan, California'?" asked Rivera. "What are we going to do there?"
"These are people," he continued, "for whom the Holy Book is their whole lives, and the deaths of children is just a passing event."
"They will never evolve into Americans," he added after Kilmeade asked what happens when the people we've been trying so hard to remove inevitably return to Afghanistan. "2014 will make no difference!"
Have a look, via Fox News:
Have a tip we should know? tips@mediaite.com