Geraldo And O'Reilly Tussle Over Whether Gingrich Called Spanish The 'Language Of The Ghetto'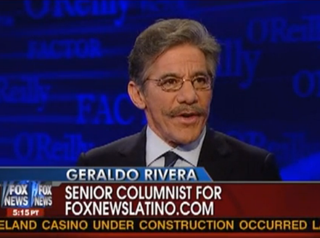 A few years ago, Newt Gingrich advocated for making English the official language of the nation to prevent people from speaking "the language of the ghetto." In the context of his proposal, many, including Geraldo Rivera, think it is indisputable that he meant Spanish, and on The Factor last night, Bill O'Reilly countered that he could just as easily have meant Farsi.
RELATED: Wolf Blitzer Busts Mitt Romney Over Anti-Newt Gingrich 'Ghetto Language' Ad
"He meant Spanish, that is what he was implying," Rivera noted without a doubt, "he is speaking specifically about Spanish people." O'Reilly countered that he could have been speaking about "Iranian people speaking Farsi," as Farsi would be at least as useless in the American economy. Rivera countered that he did believe that "immigrants should be required to speak English," but so much time had elapsed between Gingrich's comments and his equivocation on them that it demonstrated a desire for it to be construed as it had been for so long. On that point, Rivera called the comments an "awful mistake."
"I don't think it was one of his finest moments, but he could be talking in general," O'Reilly countered. While both O'Reilly and Rivera agreed that "ebonics" did not "help anybody," they did not find the comments helpful to Gingrich, particularly in Florida where, Rivera noted, Mitt Romney has strong support in the Cuban-American community. Rivera ultimately predicts that Romney will win Florida "overwhelmingly" in the primary, but lose it to the President in November.
The segment via Fox News below:

Have a tip we should know? tips@mediaite.com