Geraldo Appears To Defend Casey Anthony & Leaked Video Diary To Bill O'Reilly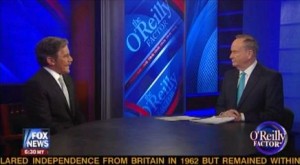 One of the biggest news highlights (I use that term reluctantly) of 2011 was the Casey Anthony murder trial that captivated everyone and their Nancy Grace. If you were one of those people who thought we'd never have to hear about this woman again, prepare to eat crow! Anthony has reemerged online in a video diary, of all things, talking in vague abstractions about her state of mind instead of directly addressing the trial that changed her life.
RELATED: Casey Anthony Video Diary Leaks Onto Internet
Thankfully, this story was picked up by Bill O'Reilly, who debated Geraldo Rivera on the merits of releasing the video on his show tonight. In the few minutes he appears on The Factor, Geraldo does not necessarily defend Casey Anthony's moral character, but he does stick up for her, both calling out members of the media for using such hyperbolic rhetoric about her and challenging the idea she would be narcissistic enough to want the video released.
O'Reilly opened the segment by referring to Anthony as "one of the most villainous Americans living these days." Before getting into the debate with O'Reilly, Geraldo challenged him on that statement, noting that she was acquitted and in the eyes of the law is not exactly a "villain," per se. For another minute or so, they debated the semantics of using that word in relation to Casey Anthony, with O'Reilly emphasizing several times how long it took her to report her child missing.
Of course, then O'Reilly got around to the bigger point: why would she put this out in the first place? He argued that her attorneys should be telling her to avoid doing anything for the next year or so. Geraldo pointed out that Casey Anthony did not release the video. In fact, according to news reports on the subject, one of her lawyers insisted she made the video for personal use and suspected she may have been hacked.
RELATED: Nancy Grace And Dan Abrams Tussle Over Casey Anthony Video On GMA
But O'Reilly wasn't buying that excuse. He referred to Anthony as "an exhibitionist sociopath" who would most certainly want to gain as much publicity as possible. Geraldo asked if she was an exhibitionist, why wasn't she making herself look better in the video or attempting to challenge the stereotype that she is, in fact, a "villain" of some sort. Slightly conceding the point, O'Reilly threw out the term "narcissist" as a possible alternative.
Watch the video below, courtesy of Fox News:
Have a tip we should know? tips@mediaite.com
Josh Feldman - Senior Editor