Geraldo Argues Obama Has Made Public Believe Scandals Are 'Phony,' Spars With Fox & Friends Hosts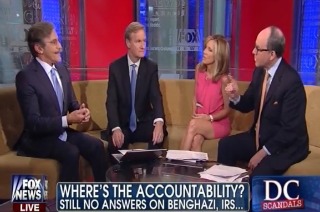 On Friday, Fox News Channel host Geraldo Rivera battled with the hosts of Fox & Friends over his assertion that President Barack Obama has deftly framed the scandals that engulfed his administration over the last several months as, indeed, "phony." He dissected each scandal and identified the ways in which the president has identified counterarguments which are convincing enough to mute the political damage those scandals could have done to his presidency.

Rivera began his effort to explain what the president meant by "phony scandals" in his Wednesday speech in Illinois by first noting that the public attention span is limited and Congressional Republicans' focus on a variety of controversies at once has muddied the issues at play.
"It's difficult to keep the focus on any particular issue," Rivera asserted.
"But that doesn't make them phony," Alisyn Camerota shot back.
"Of course it gets stale in a society that wants the newest and the latest," the Fox News host countered. He said that the Fast and Furious "gun walking" scandal died in a federal court. Rivera added that the charge that the administration misled the public on the facts of the attack on an American consulate in Benghazi in 2012 has also been debunked.
RELATED: Obama Decries 'Phony Scandals' That 'Distract' From Economic Action: 'This Needs To Stop'
"But nobody's been prosecuted," Camerota said incredulously. "There's been no justice for the victims. You're okay with that?"
"It's a question of saying 'Benghazi, Benghazi, Benghazi,' and now what?" Rivera asked.
The Fox hosts played a variety of clips of the Obama acknowledging the significance of Benghazi, the scandal surrounding the IRS's targeting of conservative groups, and the Department of Justice's sweeping subpoenas of the communications records of journalists.
"Those weren't phony scandals to him back then," Steve Doocy observed.
Rivera said that the administration has "muddied the water just enough" to dilute the political damage that they could sustain over the IRS scandal. He added that NSA leaker Edward Snowden's collusion with The Guardian journalist Glenn Greenwald has created the conditions whereby the public would welcome the DOJ's targeting of journalists.
Peter Johnson Jr. said that the president is sending signals that these and other scandals simply should be ignored. "You're talking about the difference between substance and PR," Rivera asserted. "[Obama is] being a clever, cynical politician and you have to divorce that from the legal issues."
Rivera said that the GOP's focus on these and other scandals makes them look "churlish" and uncompromising.
Watch the clip below via Fox News Channel:
> >Follow Noah Rothman (@NoahCRothman) on Twitter
Have a tip we should know? tips@mediaite.com