Geraldo Battles Fox Hosts Over 'Total Coincidence' That IRS Promoted Conservative-Targeting Official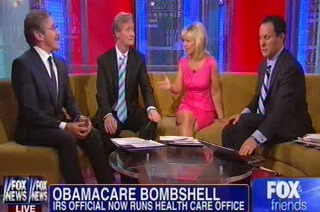 Fox News Channel host Geraldo Rivera engaged in a tense back and forth with the hosts of Fox & Friends on Friday, pushing back against the assumption that the Internal Revenue Service rewarded the individual who oversaw the targeting of conservative groups with a promotion. He said that it was unlikely that the IRS was being that nakedly devious, while the hosts of Fox & Friends were not so sure.

It was reported on Thursday that Sarah Hall Ingram, the IRS official who oversaw the tax exemption office while that office targeted conservative groups, will soon head the IRS division responsible for enforcing many of the provisions of the Affordable Care Act.
"This is where I think there is actual criminal exposure," Rivera said of the IRS scandal. "And now, Ms. Ingram, going to enforce Obamacare — very unfortunate timing, because she was the head of the tax-exempt division of the IRS between 2010 and 2012."
RELATED: Michele Bachmann Uses IRS Scandal To Discredit Obamacare At Washington Tea Party Rally
"Are you calling on her not to be named?" Brian Kilmeade asked.
Rivera did not go so far, but noted he thinks that he thinks Ingram's ascension to that office should be slowed.
"Wait a minute," interjected Gretchen Carlson. "You think it was just a total coincidence that she was named to that post after being responsible for targeting conservatives?"
"Yes," Rivera replied. "I can't imagine that she was rewarded for targeting conservative groups by getting that big job, because I think the president is smart enough to know that if you take someone who is wounded in that way – they have this metastasizing disease, this scandal, attached to them – and you give them a big job, it's not going to protect them."
"Nobody knew about it," Carlson shot back repeatedly. "And the president claims he didn't know about it until he read about it in the news."
"Hasn't the IG been investigating this for at least a year?" Rivera asked. "I can't imagine that they had absolutely zero knowledge."
"They fired her replacement," Kilmeade said with exasperation, "that was there for eight days."
Watch the clip below via Fox News Channel:
> >Follow Noah Rothman (@NoahCRothman) on Twitter
Have a tip we should know? tips@mediaite.com