Geraldo Brawls with Brian Kilmeade over U.S. 'Obligation' to Freedom-Loving Ukrainians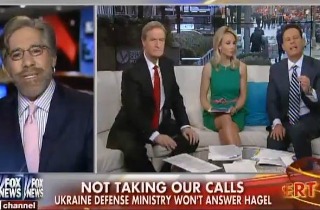 Fox News Channel host Geraldo Rivera got into a heated argument on Friday with Fox & Friends host Brian Kilmeade over whether the United States has an obligation to facilitate a peaceful transition in Ukraine from the present government which is engaged in a brutal crackdown on protesters. Kilmeade insisted that the U.S. has a moral and strategic responsibility to the region to contain that conflict. Rivera said that no such obligation exists and the United States' interest is to stay out of that conflict.
Rivera began by saying that his experience covering the conflict in Libya was instructive. He added that the Cold War is over and it is in America's best interest to "convince [Russian President Vladimir] Putin to cool things down."
RELATED: Politico Calls Out Everybody's Ukraine 'Apocalypsticles' but Its Own
"His interest is doing what he did," Kilmeade shot back, "providing millions of dollars to walk away from a deal with the E.U."
"We have an obligation to provide an outlet for freedom in that area," Kilmeade continued. "I'm not talking about troops."
"Well, what are you talking about?" Rivera asked. "Without sending in the 82nd Airborne and the 101st Airborne, how do you do it?"
Kilmeade insisted that regional stability is at stake in Ukraine and that conflict needs to be contained. Rivera objected to the invocation of the "domino theory" and said that this notion was how the United States became involved in conflicts in Southeast Asia.
"We do the best we can with moral persuasion," Rivera said, "but it is essentially not our fight."
"They'll sort it out," he concluded.
Watch the clip below via Fox News Channel:
[Photo via screen grab ]
— —
> >Follow Noah Rothman (@NoahCRothman) on Twitter
Have a tip we should know? tips@mediaite.com