Geraldo Calls Release Of Immigrants A 'Spiteful Move' By Obama: He's Throwing A 'Tantrum' Over Budget Cuts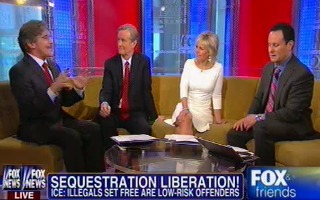 Fox News Channel host Geraldo Rivera tore into President Barack Obama and his administration's decision to allow Immigration, Customs and Enforcement to release detained illegal immigrants ahead of the mandatory budget cuts contained in the sequester. He called it a "tantrum" by Obama and a "spiteful move." Rivera added that he hopes the White House has not endangered the prospects for immigration reform in the process.

RELATED: Limbaugh Rips Release Of Immigrants: 'Impeachable Offense' To 'Let Loose 30,000 New Dem Voters'
In a discussion about the White House's efforts to intimidate their critics, Rivera brought up ICE's decision to release illegal immigrants from detention centers in order to prepare for budget cuts contained within the sequester.
"They were scheduled to begin in Arizona," Rivera noted. "Who presides over the state Arizona? Gov. Jan Brewer, who famously scolded the president with her finger. Sheriff Joe Arpiao there in Maricopa County."
"This was the White House saying, 'you want to see what this sequester is going to do? I'm going to show you,'" Rivera suggested.
"But they overplayed their hand," Brian Kilmeade interjected, "because now there's such backlash, they distanced themselves from it."
"They declared war on the people who were opposing the president," Rivera determined. "I think history will come to regard this as President Obama's hold your breath tantrum period."
"What if something happens to other American citizens because these illegals were released?" Gretchen Carlson asked. "What if something happens – a violent crime?"
Rivera replied that it is his impression that those undocumented immigrants released were non-violent offenders and they are going to be closely monitored. He said that he hopes this "spiteful move" on the part of the administration does not threatened the passage of a comprehensive immigration reform bill this year.
Watch the clip below via Fox News Channel:
> >Follow Noah Rothman (@NoahCRothman) on Twitter
Have a tip we should know? tips@mediaite.com