Geraldo, CNN Both Mistake Baltimore Marcher for Russell Simmons: 'You Look Just Like Him'
We have a very important message for cable news: Former Def Jam record executive Kevin Liles is not — we repeat not — Def Jam co-founder Russell Simmons. Within about a 10 minute span, both Fox News' Geraldo Rivera and CNN's Brian Todd approached Baltimore native Liles as he marched alongside New York Knicks star Carmelo Anthony and insisted he was Simmons.
"Mr. Simmons, Russell, the hip hop mogul, why are you here?" Rivera asked Liles, laughing as he was politely corrected. "I'm sorry, you look just like him," the Fox reporter added.
Watch video below, via Fox News:
Moments later, CNN's Todd found Liles in the crowd and initially referred to him as "Kevin" but then made this strange set of comments: "You bear a striking resemblance to Russell Simmons, you tell me you're not him, you tell me you're Kevin Liles, I'm not sure I believe you. We think this is Russell Simmons, Wolf."
Watch video below, via CNN:
Plenty of people watching went straight to Twitter to disabuse the hosts of their false impressions:
Wow @CNN are really idiots calling Kevin Liles, Russell Simmons. Why not just say every black person looks the same! Blatant ignorance!!!

— Charles (@MrLXC) April 30, 2015
CNN just doesn't know when to stop! Reporter insists TO Kevin Liles he MUST be Russell Simmons cause,ya know they all look alike! #RacistMSM

— Jackie (@thedahlimmama) April 30, 2015
The reporter on @cnn said he didn't believe Kevin Liles was himself Bc he looks like Russell Simmons. #allblackppllookalike

— Love to Encourage (@EnglandinBK) April 30, 2015
Hey @cnnbrk @CNN that's not Russell Simmons it really is Kevin Liles #allblackpeopledontlookalike #BlackLivesMatter

— Jacqueline Muhammad (@JournalJacq) April 30, 2015
Geraldo Rivera called Kevin Liles Russell Simmons. We all look alike.

— Crystal ~ Light ~ (@ItsCrystalKlear) April 30, 2015
Later, when Todd tossed back to Wolf Blitzer, he again suggested that Liles was Russell Simmons in disguise:
For the record, that is Kevin Liles on the left and Russell Simmons on the right in a photo from Hamptons Magazine: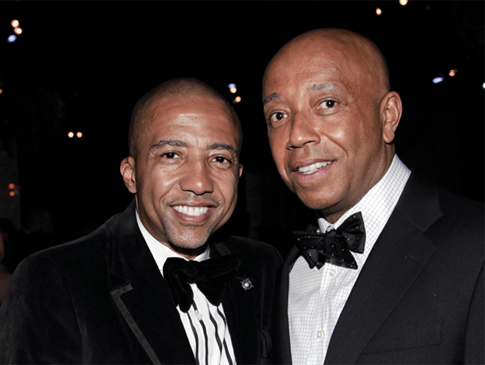 [Photo via screengrab]
— —
>> Follow Matt Wilstein (@TheMattWilstein) on Twitter
Have a tip we should know? tips@mediaite.com