Geraldo Condemns FBI Surveilling Muslims, Praises NYPD Frisking 'Minority Kids On Corners With Hoodies'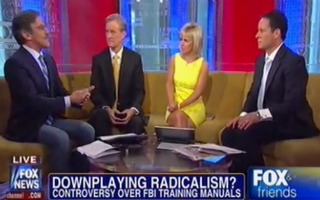 Geraldo Rivera offered a contradictory take on two issues during his appearance on Friday's Fox & Friends when he suggested that the Federal Bureau of Investigation's surveillance of extremist Muslim groups since 9/11 had outlived its usefulness, but that the New York City Police Department would be found by the Justice Department to have done no wrong for targeting and frisking "minority kids on corners with hoodies on."
RELATED: Geraldo Rivera Phones In Taliban Spokesman, Asks Him 'How It Feels To Get His Ass Kicked'
"Something that Senator [Dick] Durbin (D-IL) is doing; he is pressuring the FBI to start taking out all indications and intimations about American Muslims – radical Muslims, and how to handle them and how to investigate them," co-host Brian Kilmeade said.
"Here's the problem: you're investigating radical Muslims," responded Rivera. "What does that mean? You're investigating Muslims. To find radical Muslims you investigate Muslims. So what do you do when you're looking at Muslims? Isn't that racial or ethnic or religious stereotyping right from the get-go?"
"The Muslim community rightly suggests that all of this intense surveillance since 9/11 is unfairly burdening the law abiding community which is the vast majority of Muslims," said Rivera. He points out that FBI materials warn that Muslims that are more devout in their religion deserve fuller scrutiny and says that the outrage would be deafening if the same were said about a Christian group. "So you understand where they're coming from," Rivera continued.
"You're a realist and a practical person," interjected Kilmeade. He said that Rivera knows that the FBI is not investigating radical Christians in the numbers they are radical Muslims and there is a consideration about prudence that has to be made.
"I remember – and I constantly say this – look at my mustache," said Rivera. "During the days of the intense war on drugs, who were being targeted? It was the Hispanics, particularly those that traveled to Latin America. Because, why? Because they were bringing the dope in so naturally they were the people the authorities concentrated on…"
"But what's the alternative, Geraldo?" asked co-host Gretchen Carlson. "The alternative is that 10 of these attacks that have been thwarted by the NYPD would have happened."
Geraldo conceded that Carlson was correct on that point, and said he supports the city government and their surveillance efforts on suspect extremist groups, but also said that groups like the ACLU are "understandably upset."
"It is a collision of rights," said Rivera. "It is a difficult and tense time."
Kilmeade brought up the federal Department of Justice's investigation into the NYPD, which Rivera said would amount to nothing. Rivera said that programs under investigation, like "stop and frisk" would be found legal and justifiable because the NYPD is targeting "minority kids on corners with hoodies on." The Fox & Friends hosts immediately stopped Rivera, and co-host Steve Doocy asked Geraldo whether he would be in to "apologize for anything else."
Watch the segment below via Fox News Channel:
Have a tip we should know? tips@mediaite.com