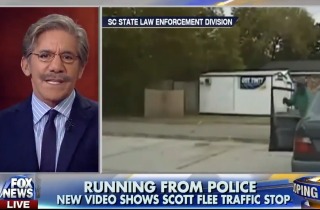 The dashcam footage released by North Charleston officials provides enough context about Officer Michael Slager's slaying of Walter Scott to get the cop off his murder charge, says Fox's Geraldo Rivera.
Speaking with Fox & Friends, Rivera, a former attorney, said the video showed that the incident "started as a righteous traffic stop" because 50-year-old Scott was "acting very hinky and edgy" before bolting during the roadside exchange. This provides important context for the officer's legal case, Rivera said (emphasis added):
There is reliable eyewitness account that there is then a struggle after the Taser. So, up until that point, the cop with his adrenaline pumping, now he's been in a physical tussle, and now the perpetrator has reached for the Taser allegedly. Now it gives you the context of his blood boiling. [Officer Slager] has done everything professional and now he's had this, this civilian has dared to physically have this altercation with the officer. Put that in the officer's head now. I think it saves him from the murder rap.
The comfy couch hosts were stunned to hear him declare this wasn't murder, and so Rivera clarified: "This is a horrible, horrible shooting, but there was no premeditation. This is manslaughter. I believe that this is manslaughter."
When Steve Doocy mentioned how "one of the other morning shows on another channel" suggested Scott's death was the result of police targeting black men — hoping for Rivera to shut down the race talk — the guest replied: "I don't think there is any doubt that too many black moms fear cops when their kids go out more than they fear crooks."
Doocy responded that "more white people are shot by cops than black people," which prompted Rivera's correction that he was speaking on the black community's widespread perception, not statistics.
Watch the segment below, via Fox:
— —
Have a tip we should know? tips@mediaite.com