Geraldo Doesn't Take Kindly to Being Called a Baltimore 'Agitator': 'Do You Want Me to Stay Home?!'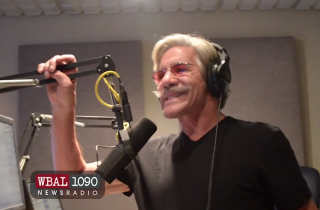 When WBAL 1090 radio host Bryan Nehman suggested Thursday morning that Geraldo Rivera reporting from the streets of Baltimore might be an agitating presence, the Fox News personality did not take it kindly.
"You've been mixing it up with 'agitators,' as you call them," Nehman recounted to Rivera, "but do you feel though, as being there, you are also kind of stirring it up? You're also an agitator, in a way, because you're there and the attention that you bring and the attention that the cameras bring just draw more people out to the streets."
Rivera's initial response: "I'm just the most famous person. I am a lightning rod in that regard. But I can't allow my celebrity to prevent me from doing my job. I didn't seek out those young people who were so aggressive toward me," he said, referring to his confrontation with a protester on Tuesday evening.
When Nehman pressed Rivera on whether being on the streets around the 10 p.m. curfew only serves to aggravate the crowds, the Fox Newser got fiery: "What do you want? Do you want me to stay home? I mean, it is is absolutely preposterous that my presence is inciting people, per se. You know, I can't be a reporter because my mere presence incites some people because they know they're going to get attention?"
The pair eventually agreed that the media does face the age-old tension between simply reporting a story and helping contribute to the story by being there.
Watch below, via WBAL:
— —
>> Follow Andrew Kirell (@AndrewKirell) on Twitter
Have a tip we should know? tips@mediaite.com